Access the inaccessible !
Switzerland has 40 landing places in the mountains. Heli-skiing allows you to glide down the slopes outside the ski areas in enchanting panoramas.
HELI-ALPS will take you there in complete safety.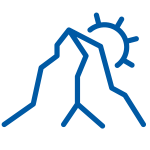 Altitude : 3'660  meters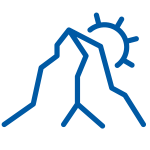 Altitude : 3'300  meters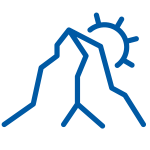 Altitude : 3'796  meters
OBLIGATION OF A MOUNTAIN GUIDE FOR THE PRACTICE OF HELISKIING !
GLACIER DU TRIENT, PETIT COMBIN, PIGNE D'AROLLA, ROSABLANCHE, WILDHORN
Prix en EUROS identiques au FRANC SUISSE
Prix par personne / Minimum 4 personnes
Les honoraires et le transport du guide ne
sont pas compris dans nos prix
Autres destinations sur demande
Prix sous réserve de modifications
INFORMATION / RESERVATIONS
Prices are per person for a minimum party of 4
Helicopter transport of mountain guide and daily fee not included
Other trips available upon request
Prices are subject to change without notice
THE ADVENTURE FROM YOUR HOTEL !
The hotel La Vallée in Lourtier in the Val de Bagnes has a take-off and landing place to practice heliskiing directly from slipper to ski shoes !
The Hotel & SPA la Vallée has a helicopter take-offand landing place to discover and practice heliskiing. From December to May, if you are in good physical condition and you ski in all types of snow, let yourself be tempted by a unique experience. A real day in the mountains, with hiking and drem descents to the valley, live an emotion shared with your friends or family.
FROM CHF 990.-/PP* (PACKAGE 2 NIGHTS)
* on the basis of a group of 4 people
Our Heliskiing Adventures include :
the dinner
overnight stay with breakfast
access to the spa
the Verbier/4 Valleys ski pass
the pic nic
The mountain guide of ther Verbier Guides office
Helicopter Drop-off
The return trip by taxi
Mandatory technical equipment

Héli-Alpes SA
Aéroport Civil
CH-1950 Sion